Ubuntu Touch aiming to be a usable daily driver by the end of May
11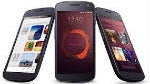 Back at the beginning of March, Canonical founder Mark Shuttleworth said that Ubuntu Touch would be ready to be a
daily driver
by mid-March. Obviously that never happened, but it sounds like we may finally be close. It isn't guaranteed to happen, but Canonical is setting a goal to have Ubuntu Touch be "usable" by the end of May.
The news comes from Canonical's Director of Ubuntu Engineering, Rick Spencer. Spencer says that the decision was made in a discussion between himself, Shuttleworth, and Pat McGowan, Canonical's Director of Engineering and Product Strategy. The three men decided that development speed would accelerate once developers were able to "dogfood" the product, and that means it needs to get to a place where it can be a usable daily driver.
McGowan defines a "usable daily driver" as being able to: make and receive calls, send and receive texts, browse the web on 3G or WiFi, toggle between 3G and WiFi, dim the screen based on the proximity sensor, import/add/edit contacts, and retain user data after an update.
Those are the goals, and what the team is aiming to have done by the end of this month. Even if it doesn't make it by the end of the month, it sounds like a usable Ubuntu Touch is close, and we'll definitely be bringing another hands-on when it arrives.