USPTO gets one right! Rejects Apple's pinch-to-zoom patent claim
45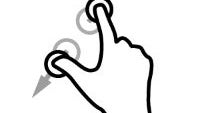 We don't often say many good things about the US Patent and Trademark Office (USPTO), because we don't think the office does much good in the world of software patents. Frankly,
we're not sure software patents should exist at all, because they are often little more than logical conclusions, or digitized versions of physical objects
; and, they don't seem to lead to much other than wasted court fees. Still, as much as we criticize, we do need to point out when the USPTO gets one right, and the USPTO has rejected Apple's pinch-to-zoom patent claim.
The patent for pinch-to-zoom was filed in 2007, and awarded to Apple in 2010. It covered how software would distinguish between the scrolling movement of one finger and two-fingers gestures like pinch-to-zoom on a touchscreen; and, the patent has been a big part of
Apple's $1 billion win
over Samsung in court. So, this new ruling could have a significant impact on Samsung's appeal bid.
The USPTO had issued a preliminary ruling in December 2012 that the patent claims were invalid; and, today in a "final office action",
all 21 claims by Apple were rejected for either being anticipated by previous patents or for being unpatentable
. Looks like it only takes the USPTO 6 years to work through a patent to figure out it's a logical conclusion. We're sure that will help the office work through the huge backlog of patents it has on its hands.
Recommended Stories