Twitter for BlackBerry v3.1.0.11 is available for download in the BlackBerry Beta Zone
Towards the end of last month in May,
BlackBerry Beta Zone members
were treated to the download of
Twitter for BlackBerry version 3.1.0.8
. Surely it's been a little bit over a week since its arrival and we're now seeing yet another software update – albeit, it's nothing more than a minor one.
Of course, it's nice that the app is consistently seeing updates that bring forth tweaks, fixes, and new features. This time around, however, BlackBerry Beta Zone members are presented with
version 3.1.0.11
of the official BlackBerry for Twitter app. So what's included with this one? Well, it features the following items:
Cannot press 'L' to reply to all in Tweet details screen (BZ report)
"Sorry you are not authorized to see this status" error popup on Tweet details screen (BZ report)
Seeing duplicate Replies in Tweet details page (BZ report)
View Pictures are not full sized and cropped off in new Tweet details (BZ report)
Undo Retweet fails
Right to Left – Scrolling in timeline jumps over links, @mentions and #hashtags to Retweeted by user link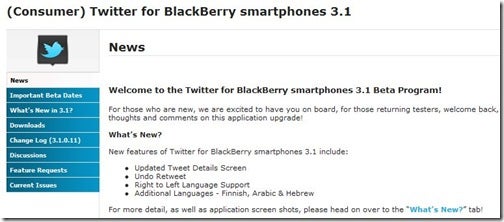 Well people, that's about it for now, but as we always continue to expect, there's no doubt that we'll be seeing another one soon – that's because there might be some kind of bug found with this version. Nonetheless, it's always nice seeing the app getting its share fair of love.
source:
BlackBerry Beta Zone
via
BerryReview
Recommended Stories