TransPhone is like a small Padfone, but not really
14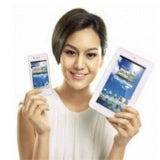 The Padfone by Asus is one of the more innovative devices in recent memory, but that wasn't enough to spawn crowds in front of Asus stores. Still, geeks all over the world seem to respect it for trying something new and different. However, it turns out Asus's product ended up being quite an inspiration for a company named ExoTablet, which has created a very similar, yet obviously different product.
TransPhone, as the device is called, is a phone + tablet duo in the same way like the Padfone, but it tries to keep things a bit more affordable with lower specs and a smaller form-factor. The phone part of the TransPhone features goodies like a 3.5" display, single-core CPU, 512MB RAM, 5MP camera and HSPA connectivity among other things. The tablet part, on the other hand, can quickly enlarge the image with its 7" screen, and power it with its own, beefier battery.
The TransPhone can be purchased now for $429.99, which doesn't sound like a great deal for what you're getting. Interestingly, the manufacturer also offers some other choices like getting an additional tablet part (called TransPad) for $140 (kind of weird why someone would need two of those), a phone part for $379, a family pack consisting of two TransPhones and two TransPacks plus an additional charger for $999, or the ultimate super-mega business pack consisting of 10 TransPhones, 15 TransPads and 5 additional chargers for the perfectly reasonable price of $4499.
We want to inform you that PhoneArena is currently in talks with ExoTablet about purchasing a business pack of TransPhones in order to improve team communication and productivity while in the office and on the go.
source:
ExoTablet
via
IntoMobile
... All joking aside, here are some images of the product: