TouchWiz UX shown off in this Samsung Galaxy Tab 10.1 video
5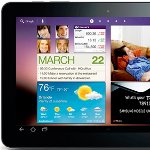 Samsung has just released a video showing off all of the features found in their Android Honeycomb powered Galaxy Tab 10.1 tablet including the added functionality from their TouchWiz UX interface.
The video goes over all of the features found on the Samsung Galaxy Tab 10.1, but if you are already familiar and just want to see what the TouchWiz UX adds then skip to the 2:16 mark. For the most part it appears that Honeycomb keeps its normal appearance throughout the operating system. Most of the additions are purely functional.
During the demo you can clearly see that there is a wide array of new widgets that can be used to give users access to a ton of various content right from their home screen. Also shown off is the use of mini apps. Mini apps are smaller windows that can run with another app running right behind it. The tablet will have 6 mini apps once TouchWiz becomes available. This is just the tip of the iceberg as there is much more to check out with Samsung's user interface.
It is a little different than the stock Android experience, but it could very well be a welcomed improvement. Check out the video and tell us what you think in the comments below.
source:
TabletPC Review
via Clove