Toshiba launches new Regza tablets in Japan ranging in sizes 7 to 13 inch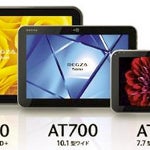 Toshiba announced the launch of its new four-model line of Regza tablets, ranging from 7 inch all the way up to a gigantic 13 inch model. While the model launches are initially only available in Japan, it will be interesting to see if the unfamiliar sizes will take hold and spread around the world.
Many of the specs of the new tablets are the same among the devices. They all sport Android 4.0, a 5 megapixel rear camera, 2 megapixel front camera, Wi-Fi, Bluetooth, SD card reader, and USB 2.0 port, they vary in processors, resolution, and screen size.
The Regza AT830 sports an NVIDIA Tegra 3 processor clocking in at 1.4GHz. Its display measures 13.3 inches with a resolution of 1600x900. The AT830 comes with a $1000 price tag. The Regza AT700 has a 1.2GHz Texas Instruments OMAP processor with a 10.1-inch 1280x800 display. Both models are now on sale with 64GB of internal storage.
The Regza AT570 touts a 1.3GHz NVIDIA Tegra 3 processor, a 7.7-inch 1280x800 organic EL display, and can be yours for $883 for a 64GB version, or $744 for the 32GB version.
The Regza AT500 also comes with a 1.3GHz NVIDIA Tegra 3 processor and is on the shelf now in 64GB and 32GB versions, with a 10.1-inch 1280x800 display. We can't find a published price for the 32GB model, but the 64GB model retails for $643.
Are you confused yet? Toshiba hopes consumers will be excited about having the ability to select just the right size and specs their device will sport. We like the idea, but can't imagine it'll be easy for retailers to manage so many SKUs for the entire line.
Do you like the idea of being able to chose between so many sizes and configurations, or do you think the better business model is that of Apple or Samsung where there are only one or two sizes, and minimal configuration customizations available?
source:
Electronista