Tom Hanks develops typewriter app for the Apple iPad
8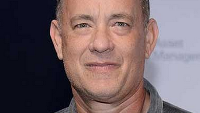 What is it about celebrities and QWERTY keyboards?
Ryan Seacrest has his Typo 2 snap-on physical QWERTY keyboard
for the Apple iPhone. And now, Tom Hanks has an app for the Apple iPad that brings back the old clickity-clack of a manual typewriter. The app, called Hanx Writer, allows you to type with the look and sound of a classic typewriter, including that bell sound you hear at the end of each line.
Hanx Writer is a free app, found in the Apple App Store. For $2.99 each, you can purchase additional fonts and sounds. If anyone knows about typewriters, it's Hanks. The actor once had a collection of typewriters that numbered 200. We wonder if he wrote "
That Thing You Do
" on one of those old models.
Even though Hanx Writer is supposed to replicate the sound, look and feel of using a typewriter, we are talking about modern technology after all. That means that the typewriter QWERTY on the app includes a delete key, and features auto-correct.
source:
HanxWriter
via
USAToday