Tim Tebow stars with Bigfoot in T-Mobile's Super Bowl ad
8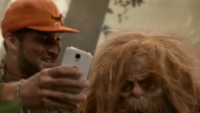 Besides mediocre football, the Super Bowl is known for one big thing. Every year, large corporations pull out the stops in order to come up with the craziest, most memorable ads in order to capture the attention of the millions of viewers watching the game. In addition, the ads become part of the story themselves as they get talked about for days after the game. And of course, Fox is charging top dollar for ad time.
With crazy ads starring big name actors, this seems likes the perfect environment for T-Mobile. The most aggressive and least buttoned down carrier among the four major operators in the U.S., the company is advertising its plan that pays your ETF up to $350 if you leave your carrier for T-Mobile. The latter just
added a number of new regional rivals
to the list of those it will cover with this promotion.
To discuss a plan without contracts, T-Mobile turned to a football player without a contract, Tim Tebow. The former NFL QB reveals all of the things he was able to accomplish this year without signing a contract. Like delivering a baby, bringing down Bigfoot in the open field and tossing a football on the moon. T-Mobile is trying to show that contracts are limiting, life is more rewarding without one, and that it will gladly help free you by paying off your ETF.
source:
T-Mobile
via
IntoMobile