Tim Cook accepts Free Expression Award, makes sly comment on Trump's agenda
22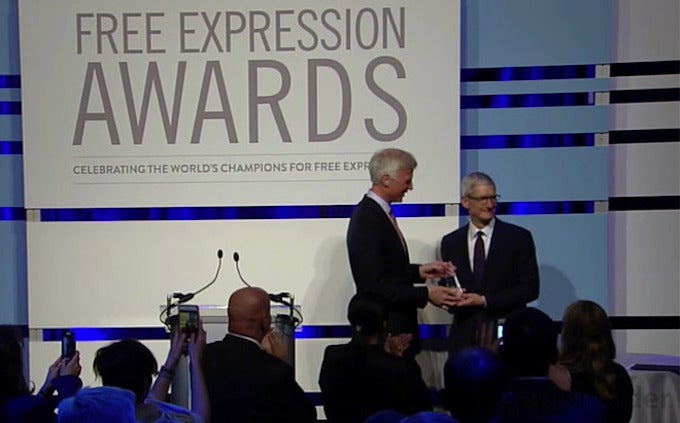 Imagine what it's like to be at the helm of a company that is worth hundreds of billions of dollars, and produces products that are used by humans of almost any age. You are thinking McDonald's, right?
In Apple's case, the company presents various platforms for all kinds of expression, interaction and different forms of creation. The influence it can cause through its products, campaigns and presence, is immeasurable. Being at the lead of such a force puts you in a tough position, as your voice and decisions have a semi-direct impact on huge masses of people.
Last night, Apple CEO Tim Cook was honored with the Free Expresion Award, and gave the longest speech of the night, at the Newseum in Washington, DC. Since he took over from Steve Jobs, Cook has become popular among expression rights activists and LGBT groups, alike. He stirred the company through the San Bernardino incident and has showed real engagement with private date protection, education and climate change. Tim Cook also gained a lot of popularity through his stance on Trump's election and some of his politics, and arguably made a remote sardonic comment to his address at the event last night. Cook said that "we must be open to alternative points of view, not alternative facts", arguably addressing Trump's concept of "alternative facts".
At times when basic freedoms are intermingled heavily with technology, and often rely on it, Cook took time to comment on the importance of protecting what the First Amendment promises.
We know that these freedoms require protection..." "Not just the forms of speech that entertain us, but the ones that challenge us. The ones that unnerve and even displease us. They're the ones that need protection the most. It's no accident that these freedoms are enshrined and protected in the First Amendment. They are the foundation to so many of our rights.
Upon receiving the award, Apple's CEO reminded us of the times we live in and drew a parallel with the huge amount of forms of expression we have nowadays. He accepted the award on behalf of Apple, acknowledging that the achievement is a group effort, just as much as it is a personal one.
Kudos, Tim, keep up the good work!
source:
AppleInsider
via
9To5Mac