This "Spinner" Windows Phone concept handset proposes a swivel camera and aluminum body
32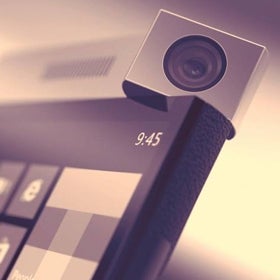 While smartphones with
swivel
/
rotating
/
flippable cameras
are becoming more and more popular (at least in Asia), there's not a single model to run Windows Phone - they're all based on Android. Probably with that in mind, Phone Designer created a concept smartphone called Spinner, which is based on Windows Phone and includes a rotating camera.
Unlike the swivel cameras that we've seen until now, the one that the Spinner concept proposes is situated on the upper right corner of the device, thus giving it a distinct look. What's more, the imaginary handset is made out of aluminum and plastic, these aspects also contributing to its unusual design. The phone has a 4.7-inch display of unspecified resolution, and is only 7mm thick - thus being comparable to an iPhone 6 (as you'll see in the images included below).
Like most concept phones, the Spinner will most likely never become a real device. But maybe - by accident or not - someday we'll see some handsets that resemble it. Would you like that to happen?
The Spinner Windows Phone concept