This Android smartphone has an e-ink screen, will last a week on a single charge
22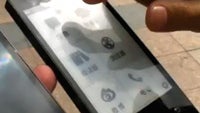 In case you've ever handled a non-color Kindle e-book reader, you know how neat those e-ink screens actually are. Sure, their slow refresh rate can be annoying, but their outdoor visibility is excellent, not to mention that the technology behind them sucks minimum amounts of battery power. Now, have you ever wondered what would happen if a smartphone was made using this type of screen?
Wonder no more as the Chinese company Onyx International has already made one. And surprisingly, it runs Android, albeit in a heavily modified form in order to make the interface usable on the black-and-white e-ink screen. Using the smartphone under broad daylight is no problem at all, as you are about to see in the video below, and the battery of the device is said to last for an entire week.
Unfortunately, the smartphone experience is totally destroyed by the limitations of the e-ink screen, such as the lack of colors and the slow refresh rate. In other words, forget about enjoying YouTube videos, playing Angry Birds, or having any kind of fun with this handset. So yeah, perhaps an e-ink smartphone isn't such a good idea, even though it has its advantages, but we'd also like to hear your opinion on the matter. Drop us a line below and tell us what you think of it!
source:
ARM Devices
via
Slash Gear