The new Samsung Aurora speaker requires a docked smartphone
7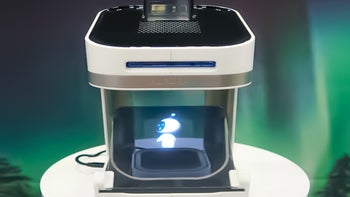 Samsung recently unveiled a new smart speaker prototype at the SXSW show for 2018. This news in itself is not very interesting. We have seen numerous companies unveil smart speakers over the last year or two. However, the prototype Samsung brought to the table differs from the rest in a significant way. The
Aurora speaker is not very smart on its own
, rather it uses your smart phone as the brains of the operation. As a matter of fact, the Aurora speaker does not have a mic, a processor or any other component that makes a speaker smart.
The device is a Bluetooth enabled speaker, with a section for docking a compatible smartphone. The speaker then uses the phone's hardware, including the mic and camera, to create a smart speaker experience. It has a display that portrays a holographic-style character, which reacts to the user's voice. The new speaker will of course require an app to work and it is not clear what handsets the Aurora will work with. The device is still under development so there are a lot of details left to be worked out. Still, the concept is interesting and could be successful.
The main point behind the design of the Aurora is cost.
Samsung appears to be taking something that most people already have in their pocket, and put it to another use when they are home. While your smartphone is charging, it can then provide you with a smart speaker experience. Since the Aurora does not have any of the complicated hardware inside most smart speakers, it is really cutting down on production cost. This speaker could appeal to buyers who think a smart speaker is neat, but they do not want to pay premium prices for existing products. Since the product is in development, Samsung has not announced a price, release date or if it will even reach production. As a side note, no one has mentioned if this speaker is intended to work with Samsung's less-than-popular digital assistant Bixby, or if something new is in the works.
source:
XTech
via
PC Mag