The Yellow Jacket is an iPhone case, an extended battery, and a stun gun!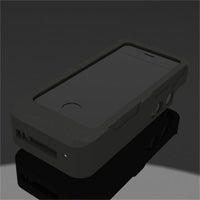 Traditionally we'd say you should never bring an iPhone to a gunfight, but with this new Indiegogo project, you might be able to. The Yellow Jacket is a product of the minds of Seth Froom and Sean Simone. The idea came about after Seth was the victim of an armed robbery. He sought to combine a personal protection device with an item everyone carries with them all the time.
The Yellow Jacket is an
iPhone 4
and
4S
case that also doubles as a stun gun. The stun gun packs a 650K volt punch of electricity and can be deployed in as little as 2 seconds. Because the stun gun has its own battery, the Yellow Jacket can also be used as an extended battery for your iPhone, giving you up to 20 additional hours of juice.
The Yellow Jacket is slated to cost $125, but to get this project off the ground, you can pre-order one in black, white, or pink via Indiegogo for just $100. Unfortunately, stun guns are illegal in several states and cities so before you run and grab that credit card, known that the Yellow Jacket will not be shipped to Illinois, Massachusetts, Michigan, New Jersey, New York, Rhode Island, Wisconsin, Annapolis, MD, Baltimore, MD, Baltimore Country, MD, Chicago, IL, Dennison, IA, Crawford Country, IA, Washington D.C., and Philadelphia, PA.
For the rest of you, if you think the best defense against a gunman or other attacker could be your iPhone, head on over to Indiegogo in the source link to get behind this project.
Thanks to our tipster for sending this in!