The Times of London now has an Android app
0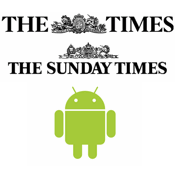 Good news for those of you in the UK who are fans of The Times, or even for international readers who know that referring to the New York Times as "The Times" is grounds for a thrashing. The Times of London has finally released an app for Android.
Unfortunately, the app is just a free trial. Though no time table is given, The Times says that the app will eventually move to a subscription model, which will cost £2 a week, but that subscription fee will include mobile apps, web access and Times+, which is a deals service offering admission to certain events and other offers.
The Times app is compatible with Android 2.1 and up, and is free in the Android Market.
source:
Android Police
Android Market link