The Samsung Houdini gets revealed in a video
This article contains unofficial information.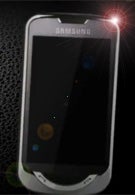 A video advertising a phone that´s allegedly the
Samsung Houdini
has appeared on the Internet. To stay true to the name of the handset (after the legendary Harry Houdini), the video is somewhat mysterious in several aspects. First, the phone looks like the
Samsung OmniaPRO B7610
(the video title) and the indicated interface and specifications are virtually identical to the latter handset. Its design stakes on the very same idea of a side-sliding keyboard, but the back panel looks more austere, lacks spangly elements and the shape of the buttons on the front side of the mysterious cell phone is different. Second, the video shows the Houdini will be running Windows Mobile 6.1 Professional, but we can hardly believe that a self-respecting manufacturer will focus its ad hype on an operating system that is to slide into oblivion in just a few days, even more so, given Samsung are rolling out a software patch that will update most of their smartphones to Windows Mobile 6.5. Third, the Samsung Houdini has already appeared on the list of Android-based handsets that are about to hit the shelves through T-Mobile USA. Is it likely that it has somehow been magically re-designed to utilize another operating system?
These are the questions that the video leaves without answers. Obviously, we will have to wait until the phone has been officially announced. It seems possible that the phone being advertised in the video proves to be an OmniaPRO B7610 version, intended for the North American market. Sound off your opinion and tell us what you think in the comment below.
Samsung OmniaPRO B7610 Specification
|
Preview
source:
SamsungHub