The Sailor's Dream by Simogo floats over to iPhone and iPad
0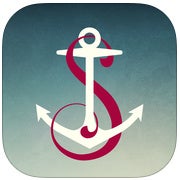 The Sailor's Dream is the latest game by Simogo, the studio that keeps on pushing the boundaries of interactivity and design, after its innovative Year Walk and Device 6. More of an interactive story, The Sailor's Dream does not have all that much of a 'game' element as it has a visual narrative, an immersive story-telling that shows all the possibilities of the touch screen medium.
The Sailor's Dream is an experience - you flow through the world using natural gestures on the touchscreen, and the transitions between various parts of the world is smooth. Just like its earlier games, this one is best played with your headset on. This way you'll be able to fully focus on the experience, as the narration, the images and the ambient soundtrack all combine to help you find your way in this game.
"Simogo puts an emphasis on style and design in their projects, and they're constantly challenging what we've come to expect from interactive experiences. Nothing showcases that more than their most recent title, Device 6, which oozes with style and marries audio, visuals and written text in a way that's unlike anything else on the iOS platform,"
the studio has earlier said.
The Sailor's Dream shows how Simogo is ready to push those boundaries even further. It costs $3.99 and is now available for iPhone and iPad.