The Nokia-exclusive optical image stabilization tech is now available to other phone camera makers
16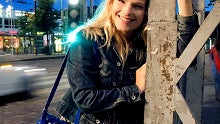 The
OIS tech
on Nokia's Lumia cameraphones like the
1020
, is superior to the one found in the
LG G2
,
Nexus 5
, or
HTC One
, allowing for much wider amplitude of hands movement compensation, up to 500 times per second.
Nokia had first dibs and exclusivity to the ST Microelectronics L2G2IS two-axis gyro that makes video shot with the
Lumia 920
,
925
,
1020
or
1520
, appear rock solid even if you are riding on a bike. Now that deal has apparently expired, and ST Micro is unleashing its optical image stabilization technology to the open market for the first time.
It's not very cheap, as the tiny chip with the gyro costs $1.7 per unit if you buy in bulk, but other phone makers would certainly be lining up to get their mobile cameras closer to the experience you get with the OIS tech on the Lumia 1020. This would allow much longer exposure times in low-light scenarios, without getting the blur treatment, and much steadier videos.
For comparison between what Nokia has enjoyed exclusively so far, with the OIS tech other makers are putting in their phones, check out this video below. It shows side by side how much shakier the footage from the HTC One appears in comparison with the stabilization used in the Lumia 920, that will now be available for other phone makers to peruse, too. Samsung and Apple are the big names that still lack phones with an optically-stabilized camera, so they better get cracking. If the orders are in the realm of millions, the price per unit is sure to fall, too, so hopefully the technology will move down to the mid-range as well.