The Nanoport can link multiple smartphones into a super-tablet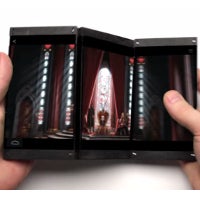 Ever thought about how cool it would be if we were able to link our smartphones together and have them transfer information between each other and unify their displays to become a large tablet? Well, the guys at Nano Magnetics sure have.
Back in CES 2014, the team announced that a gadget – dubbed Nanoport – which makes that possible is in the makings. It looks like a frame, or a bumper case, which the user has to stick to their phone. If the handheld comes in close proximity to another one that bears the same frame – the two click together magnetically, and information instantly starts flowing between the two, allowing the smartphones to link their screens and give the user a larger image to gaze at. According to Nano Magnetics, this also allows for fast and secure data and power transfer.
The team also says there will be a developer kit available for manufacturers, allowing them to build Nanoport-enabled devices – this means speakers, batteries, controllers, and who-knows-what-else.
Of course, some questions still sit at the back of our minds, like – what phones does it support right now? Will there be an intricate way to link phones with similar display sizes, but different bodies? Will linking phones with different display sizes result in differently sized images, or will the system identify them and change zoom levels, so the picture does not appear distorted and tiled from screen to screen?
As far as usability goes – we're pretty sure no one's going to buy 3-4 smartphones just so they could link them in a tablet, however, it could be an invaluable tool for connecting your phones into a huge display when you are out and about with your buddies, or for collaboration purposes at work.
The guys at Nano Magnetics have said that they have a working prototype that's going to make an appearance at CES 2015 – which means at the start of next month. Does this piece of tech make your inner nerd tingle with excitement? It sure does it for us.
source:
Nano Magnetics
via
Pocket-lint