The MegaPhone is a giant, expensive horn for your iPhone
15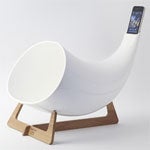 Why settled for an
iPhone
dock with a display, alarm clocks, and various other features that require additional power, when you can have a giant horn set atop the mantel? Italian design firm, en&is, is giving the world that option with its latest iPhone accessory release, MegaPhone.
This large ceramic horn acts as a passive amplifier. Simply place your iPhone into the top of the device and the MegaPhone transmits your favorite tunes without the need for electricity. The MegaPhone is available in several colors and rests upon a hand-crafted wood stand.
The MegaPhone retails for €399 to €599, depending on color selection, which is about $534 to $802 in U.S. dollars, therefore, we believe the MegaPhone is reserved for those with expensive, and quirky, tastes. In case you never have the opportunity to see one in person, en&is has included a promotional video showcasing the MegaPhone from all angles.
source:
en&is
via
TUAW