The Kyocera Verve feature slider-phone goes on sale at Sprint, Boost Mobile, and Virgin
6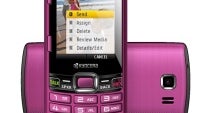 Sprint and Boost Mobile have begunselling the Kyocera Verve. It's a feature phone with a slide-outQWERTY keyboard, which the carriers tout as perfect for those of youthat simply don't need a smartphone right now. It's a truly modestoffering that comes with a 2.4-TN-TFT display, a QSC 6155 chipset,256MB RAM, 512MB of storage space, a 2MP auto-focus camera with 2xzoom, and a 1100mAh battery. Battery life is rated at 6.3 hours oftalk-time and 261 hours of standby.
Additionally, the Verve has GPS,voice recognition, TTY/TDD support for the hearing-impaired, andperks such as USB data connection for using it as a modem, andWindows Media Transfer Protocol support. Not bad for what it is.
The Kyocera Verve will be available in pinkand gray colors on Friday, April 11 in Sprint direct-ship saleschannels, Web, and telesales. Additionally, Kyocera Verve isavailable on Boost Mobile's no-annual-contract $50 MonthlyUnlimited plan with Shrinking Payments. Also, payLo by Virgin Mobilewill be offering it under a different name, Kyocera Contact.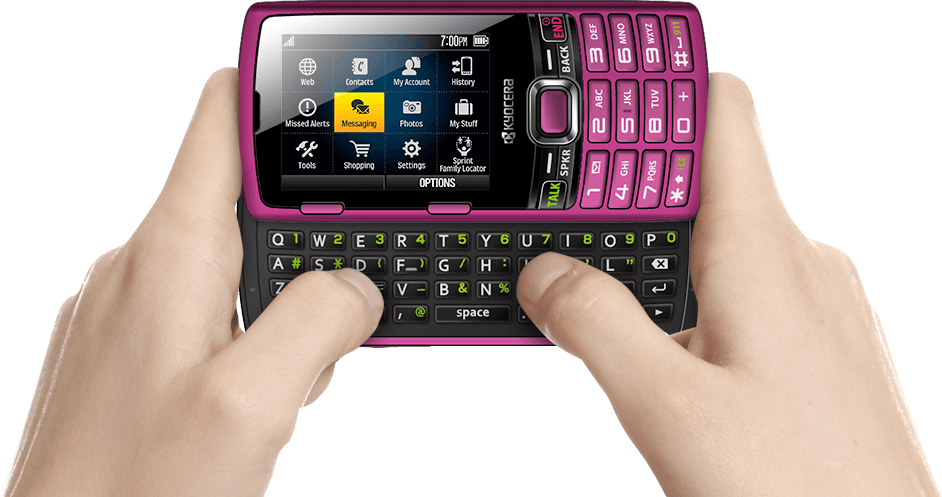 source: Sprint
Kyocera Verve Arrives at Sprint and Boost Mobile Boasting Advanced Accessibility and Unmatched Affordability
With a QWERTY keypad and new accessibility features, Kyocera Verve offers an attractive and affordable alternative for heavy texters, with or without a contract
OVERLAND PARK, Kan. & SAN DIEGO (BUSINESS WIRE), April 08, 2014 - For some people, a smartphone just isn't a necessity. Sprint (NYSE: S), Boost Mobile and Kyocera recognize this and are meeting these consumers' needs with the launch of Kyocera Verve, an easy-to-use feature phone with a slide-out QWERTY keypad. Kyocera Verve is perfect for power texters, and its advanced accessibility features offer text-to-voice translation making it ideal for vision-impaired users.
Kyocera Verve is available in pink and gray colors on Friday, April 11 in Sprint direct-ship sales channels, Web (www.sprint.com) and Telesales (1-800-SPRINT1). With Sprint Easy Pay, well-qualified buyers can purchase the Kyocera Verve with $0 down (plus tax) and 24 monthly payments of only $5.42.
A navy-blue version will be available without a contract at Boost Mobile beginning Tuesday, May 6 for $49.99 at Boost Mobile's exclusive retail stores, select independent wireless dealer locations nationwide and at www.boostmobile.com with free shipping. Additionally, Sprint will make the handset available on its payLo brand with the name Kyocera Contact beginning Tuesday, May 13 for $39.99.
Several ways to pay
Customers who activate Kyocera Verve will have access to the Sprint Framily Plan, a pricing program available to new and existing customers that lets them decide who they consider family. The more people added to the group, up to 10 phone lines, the greater the savings for everyone on the plan.
For one line of service, new Sprint customers pay $55 per month per line for unlimited talk, text and 1GB of data while on the Sprint network (excluding taxes and surcharges). For each additional new Sprint customer who joins the Framily group, the cost per person goes down $5 a month up to a maximum monthly discount of $30 per line. For only $20 per month per line, Sprint Framily Plan members can buy up to unlimited data while on the Sprint network, and they are eligible to get a new phone every year.
Additionally, Kyocera Verve is available on Boost Mobile's popular no-annual-contract $50 Monthly Unlimited plan with Shrinking Payments. For every six on-time payments, the cost of Boost Mobile's Monthly Unlimited plan shrinks by $5 eventually getting down to as low as $35 a month for unlimited nationwide, talk, text and data1. Payments do not need to be consecutive to qualify for the next saving milestone.
For those who do not need a smartphone but instead just want great value for talk and messaging with a stylish device, Verve will be available on payLo by Virgin Mobile under a different name, Kyocera Contact, with plans for as little as $20 per month for 400 minutes.2 Ideal for the budget-conscious wireless user, payLo is available at independent dealers and nationwide retailers including Best Buy, RadioShack and Target.
"Sprint is focused on offering our customers devices a variety of features and options to meet their needs and Kyocera Verve is a great example of an affordable and accessible device for those looking for a basic yet useful phone," said David Owens, senior vice president-Product Development, Sprint. "We are proud to offer Kyocera Verve for Sprint customers with our award-winning accessibility Sprint ID application bundles as well as making it available on our prepaid brands, Boost Mobile and payLo."
As the latest addition to Sprint's product portfolio designed to ensure accessibility for all, Kyocera Verve features expanded text-to-speech capabilities for menus, messaging, Web browsing, contacts, notifications and more. According to the National Federation of the Blind, more than 6.5 million people reported a visual disability in 2011.3 Other accessibility features include high-contrast user-interface options and large menu fonts to accommodate a variety of vision ranges, dedicated In Case of Emergency (ICE) and 911 shortcuts, and tactile numeric and QWERTY keyboards with well-defined buttons.
"With updated voice translation and text-to-speech features, we're excited to offer the Kyocera Verve as an easy-to-use feature phone, that won't require an additional data plan, for both prepaid and postpaid customers," said Eric Anderson, senior vice president and general manager of global sales and marketing at Kyocera Communications. "The traditional QWERTY keypad still has a strong following and we'll continue to support those consumers looking for affordable and simple, yet stylish devices."
Kyocera Verve brings customers a CDMA2000® 1X-Advanced slider phone featuring a 2.4-inch TN-TFT QVGA display. Capturing quick snapshots is easy with Verve's 2-megapixel camera with 2x zoom and dedicated function key. Calls can be taken over Bluetooth® wireless technology (2.1 with Enhanced Data Rate), via the 3.5mm headset jack or through the speakerphone with dedicated function key.
For more information on the Kyocera Verve, visit www.kyocera-wireless.com/verve/.
About Sprint
Sprint (NYSE: S) offers a comprehensive range of wireless and wireline communications services bringing the freedom of mobility to consumers, businesses and government users. Sprint served more than 55 million customers at the end of 2013 and is widely recognized for developing, engineering and deploying innovative technologies, including the first wireless 4G service from a national carrier in the United States; leading prepaid brands including Virgin Mobile USA, Boost Mobile, and Assurance Wireless; instant national and international push-to-talk capabilities; and a global Tier 1 Internet backbone. The American Customer Satisfaction Index rated Sprint as the most improved company in customer satisfaction, across all 47 industries, during the last five years. Sprint has been named to the Dow Jones Sustainability Index (DJSI) North America in 2011, 2012 and 2013. You can learn more and visit Sprint at www.sprint.com orwww.facebook.com/sprint and www.twitter.com/sprint.
About Boost Mobile
Boost Mobile, recently recognized by J.D. Power as "Highest Satisfaction with the Purchase Experience among Non-Contract Wireless Providers" and a J.D. Power 2014 Customer Champion, offers wireless phones and services with no long-term contracts. Boost Mobile redefines value for wireless consumers with its Monthly Unlimited with Shrinking Payments no-contract service, where the longer you stay the less you pay with on-time payments for unlimited talk, text and data. Boost Mobile offers nationwide service on the Nationwide Sprint Network, reaching more than 278 million people, with no long-distance fees. Boost Mobile offers a selection of quality handsets from Samsung, HTC, Kyocera, LG, Motorola and BlackBerry, ranging from entry-level to premium Android™ smartphone devices available nationwide at nearly 20,000 major retail stores, including Best Buy, RadioShack, Target, Walgreens and Walmart, Sprint retail stores, independent wireless dealer locations, and on HSN, a leading TV home shopping network. Re-Boost® Cards are available at approximately 100,000 locations throughout the United States. Experience Boost Mobile on the Web at Facebook and Twitter; and purchase products at www.boostmobile.com.
About payLo by Virgin Mobile
payLo by Virgin Mobile, one of Sprint's prepaid brands, offers affordable alternatives to long-term wireless contracts for cellphone users seeking more basic communication services. payLo's $40 Monthly Unlimited Talk and Text plan adds value with unlimited voice minutes and messages plus 50MB of Web access, all without a contract. payLo branded handsets are available at more than 40,000 retail stores, including Best Buy, RadioShack and Target. Adding to a monthly balance is simple with payLo or Virgin Mobile Top-Up cards or with a credit/debit card or PayPal account online. payLo offers Top-Up cards in various denominations to purchase monthly service and other items such as international calling, ringtones and downloads; they are available at approximately 150,000 locations nationwide.
About Kyocera Communications Inc.
Kyocera Communications Inc. is the headquarters for Kyocera wireless devices in the Americas. Designed with durability, dependability and long-term value as priorities, Kyocera mobile phones help people feel comfortable with new technology and use it to connect, perform and outsmart life's challenges. At the heart of Kyocera's products is a belief that one size doesn't fit all and that people should do more with phones instead of being confused by them or having to alter their lifestyles to accommodate them. For more information, follow the company atwww.facebook.com/kyoceramobilephones or www.twitter.com/kyoceramobile.
Kyocera Corporation (NYSE:KYO) (TOKYO:6971) (http://global.kyocera.com/), the parent and global headquarters of the Kyocera Group, was founded in 1959 as a producer of fine (or "advanced") ceramics. Kyocera specializes in combining these engineered materials with metals and integrating them with other technologies, such as solar power generating systems, printers, copiers, mobile phones, electronic components, semiconductor packages, cutting tools and industrial components. During the year ended March 31, 2013, the company's net sales totaled 1.28 trillion yen (approx. USD13.6 billion).
1Includes 2.5GB per month of high-speed data. Video streaming may be limited to 3G speeds.
2Additional minutes 10 cents each. International services extra.
© 2014 Kyocera. All rights reserved. Kyocera is a registered trademark of Kyocera Corporation. CDMA2000 is a registered trademark of the Telecommunications Industry Association (TIA-USA). Bluetooth mark is owned by the Bluetooth SIG Inc. and any use of such mark is under license. All other marks are properties of their respective owners.