The Galaxy S8 is a revolutionary phone in many aspects, but battery life is not one
72
This article may contain personal views and opinion from the author.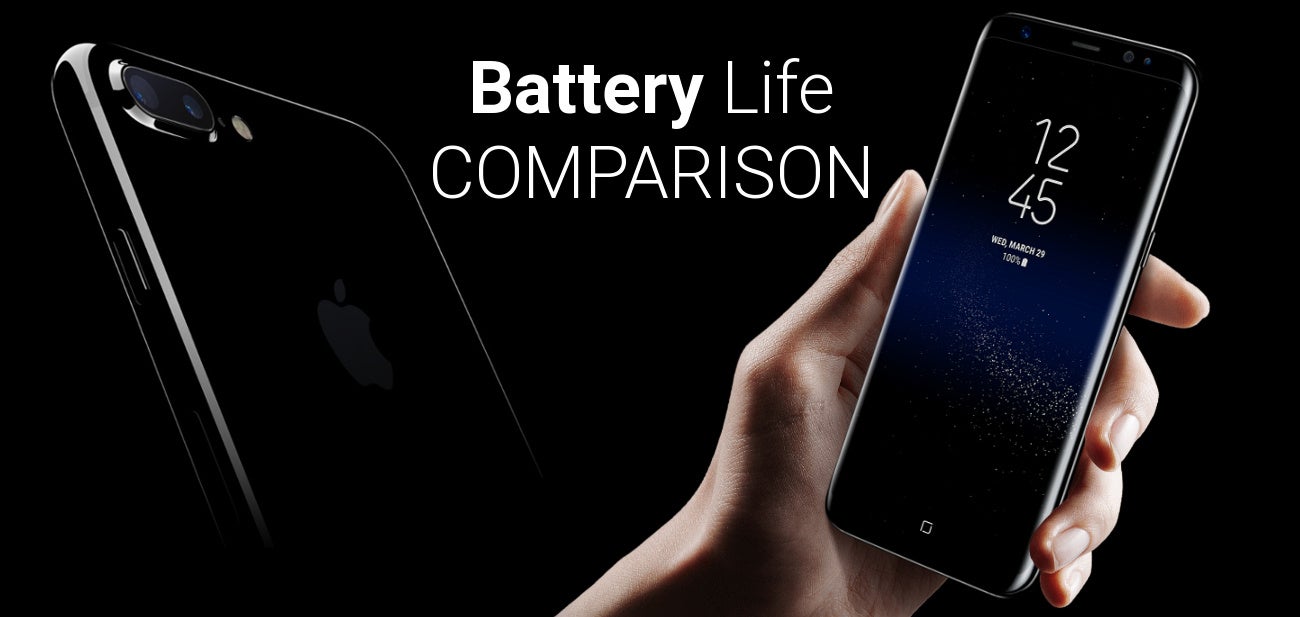 Samsung has a dream and that dream is to overcome Apple.
This is not our interpretation of current events: it is the words of Samsung's vice president of product strategy himself, spoken in front of a small group of journalists in Korea.
"We have a dream to overcome Apple."
The dream he refers to is the
Galaxy S8
, a phone that genuinely impresses me in so many aspects: the meticulous craftsmanship is unlike that of any other phone with the glass smoothly and almost seamlessly flowing into the metal frame, the Snapdragon 835 system chip, the most powerful in the Android world, the new camera that is now even better for low light pictures, the Bixby virtual assistant that is a promising first step for Samsung and last but not least, DeX, the little dock that revives the dream of one-device computing. The level of finish and refinement on the Galaxy S8 is impressive. It's water-proof, it fast-charges, it has an even better front camera, an improved interface, and the list goes on and on. It even comes with a pair of $100 AKG earbuds bundled in for free.
Yet still, in one aspect, Samsung has not dared dream big. And in that aspect, it matches the iPhone one to one.
That one aspect is battery life.
Here is a one-to-one battery life comparison between the Samsung Galaxy S8, S8+ on one hand, and the iPhone 7 and 7 Plus on the other.
Battery life comparison: Galaxy S8 and S8+ vs iPhone 7 and 7+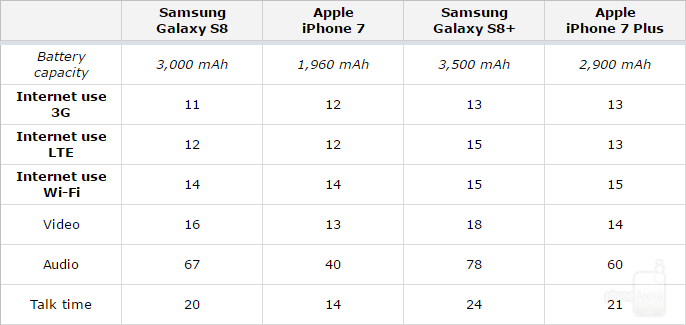 Notice the similarities? The bigger batteries in Samsung's Galaxies give them a natural advantage in screen-off tasks like music playback and talk time, but in the most important screen-on test, Internet browsing, Samsung's and Apple's devices are indeed on par.
The S8, like iPhones and many flagships, has good battery life
They all have good battery life, but is 'good' enough when we deal with the first 10nm system chip on a phone that has the potential to bring much bigger gains in battery life? And do we really need the extra load of Quad HD resolution on Samsung's phones?
Much more affordable phones, however, have great battery life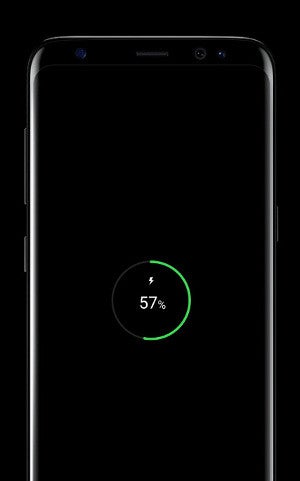 The Galaxy S8 supports fast charge and wireless charging
Finding a winning formula for a flagship phone is not an easy task. Some users will prefer all-out performance focus and even an obvious overkill like a 4K display (thankfully, Sony is still the only one to experiment with such phones), but one can also easily argue that we have long reached the level of smooth performance that we need in phones. What we know no user would reject is better battery life.
We have recently noticed that affordable phones that no one talks about that run on the 14nm Snapdragon 625 system chip get crazy battery life. I have lived with the Lenovo P2 and its battery life was a
revelation
: the 5,100 mAh cell lasted three to four days on a single charge and the phone measures 8.3mm thick, almost the same as the 8.1mm Galaxy S8 and S8+. The Moto Z Play gets a solid two days with a 3,510 mAh battery and a 7mm body, much slimmer than the new Galaxy S8 duo.
The Lenovo P2 and Moto Z Play were certainly not the fastest phone around, but for the vast majority of daily tasks it was hard for me to find a difference in the performance.
Conclusion
The Galaxy S8 and S8+ are clearly two great phones. More than that: they are revolutionary and exciting in so many areas, but at the same time, the battery life on them is... just good enough. At least according to the official numbers (and we will certainly test the hell out of them once we have final units).
At the same time, other, much more affordable phones have raised the bar so much higher. There is no limit to perfection, but in the current smartphone market, mastering battery life seems like one of the last frontiers. Do not get me wrong: ask me if I would rather get the Lenovo P2 or Moto Z Play over the Galaxy S8 and my answer would be a 'Hell no!" But if you ask me whether I would miss its outstanding battery life every step of the way... You bet I would.