The Chief System Architect for Samsung is headed to Apple
8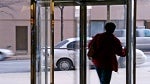 It is not unusual for tech companies to shuffle talent amongst each other. Though, this move is plenty visible given that the two companies are at each other's throats.
Despite the litigation, the need for high-end talent is on-going, and probably why Apple reached out to Jim Mergard, a veteran of Advanced Micro Devices (AMD) before he assumed the role of Chief System Architect for Samsung where he has been for little over a year. Samsung has been positioning itself to be more competitive in the system-on-a-chip (SoC) processor segment.
Apple's attraction to Mergard may lie more in his experience from AMD according to a Silicon Valley consultant (and also a former AMD executive), Patrick Moorhead. Mergard's time at AMD oversaw the development of the high-profile AMD processor code-named "Brazos" and was designed for portable lower-end computers, which indicates to Moorhead that Apple may be seeking talent related to Apple's PC efforts. Apple uses Intel processors, but not SoCs in its Mac lineup.
Samsung has been investing heavily in its operations in Texas, where Mergard currently lives. Depending on his role at Apple, he will likely stay in Texas, or if his role is more strategic in nature, may find himself at Apple's headquarters in Cupertino, California.
source:
The Wall Street Journal Blog