The Arte family has a new, Gold member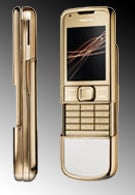 Recently, some phone manufacturers try to prove that there are people who don't care about the global economic crisis. Otherwise, how would you explain the announcements of products such as the new models of
Gresso
,
Mobiado
and
Vertu
?
Nokia also joins in the game, with a new luxury model for its 8800 Arte series. The new addition is named Gold Arte and looks like a gold-plated Sapphire Arte – it has (white) leather on the front and back. Its specificatiosn are identical to the newer Carbon Arte, with 4GB of internal memory. A memory card slot is still missing, but we should remember that it is all about the 18-carat gold plating and the luxury feel, not about the features. There is no information on its price yet, but having in mind the precious metal, we guess it will be more expensive than the Carbon, which is around $1350.
Nokia 8800 Gold Arte Specifications
source:
Nokia
If you have some interesting info that you'd like to share with us, feel free to
Tip Us!