The Apple Store website is down, points to new products on sale today
17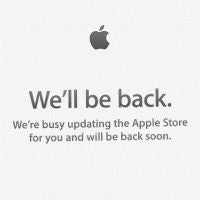 We're just a couple hours away from Apple's big announcement, and in an interesting turn of events the Apple Store website has gone down. Apple has done this before, but it usually only happens when an announcement will end up with new products going on sale right after the event has finished. The excitement about Apple's announcement will lead to assumptions that this means new iPhones on sale, but we're not sure about that.
It is certainly possible that we would see the iPhone 5C go on sale today, given the various reports that Apple had already begun shipping the device to retailers, but it seems unlikely that we'll see the iPhone 5S go on sale today. The most likely scenario is actually that the new products going on sale today won't be iPhones at all, but may be the new iPod lineup.
Apple doesn't often combine events, but it has combined the iPhone and iPod announcements before, and the iPod lineup is due for a refresh. Given that Apple is also expected to announce
iTunes Radio
today, that would be a perfect segue into the iPod lineup. Whatever the reason, we'll be finding out soon enough, so stay tuned.