The 12.9-inch iPad Pro packs four stereo speakers with 3x the volume of the iPad Air 2
23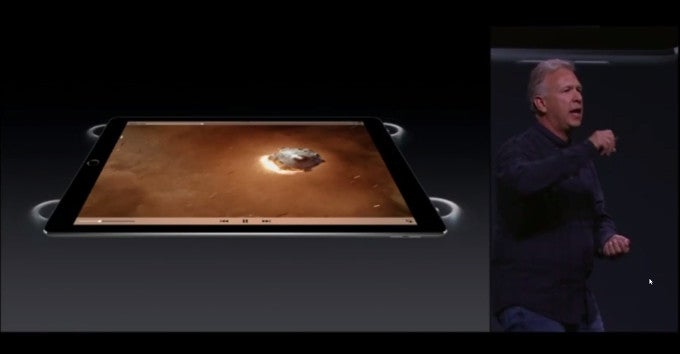 "
Monstrous announcements!"
, Tim Cook began Apple's keynote, which is currently ongoing. And while we're only some 30 minutes in, the company has already outlined a number of new Apple Watch band designs and software improvements, along with the biggest iPad ever made: the iPad Pro.
At 12.9 inches, the Pro is likely going to end up as a mostly niche devices utilized by enterprises, though nothing's really stopping the everyday Joe from snatching one up, either. In fact, packing an incredible four speaker configuration (stereo), the iPad Pro ought to prove an excellent multimedia device for watching movies or just listening to music in your living room.
So four speakers should mean double the volume of the two stereo units available on the 9.7-inch iPad Air 2, right? Close enough; we were actually told that the iPad Pro's quad config packs an even meaner punch: three times the volume of iPad Air 2. That
sounds
crazy loud and we can't wait to try it out.