Test of Robot Rampage for the iPhone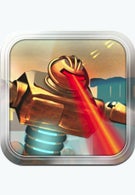 Well, Robot Rampage for the iPhone now gives you the chance to fulfil your long-cherished dream. Your own extraterrestrial robot is equipped with laser cannon, stunning trample ability and super-powerful blast that annihilates everything on your screen. Your main goal is far from noble, really – you have to destroy anyone and anything standing in your way, including buildings, infantry, tanks, helicopters etc. The longer you manage to stay alive and the greater the number of ruined neighbourhoods, the larger the score you get. The service OpenFeint affords you the opportunity to compare your result to what other gamers across the globe have achieved.
Despite the downright simple, arcade concept of the game, Robot Rampage can actually grip your attention for some time. The graphics is pleasing, the game controls are handy and you have the nice option of setting your own audio tracks as background to accompany the havoc you wreck. Given the game is available for just $1 (0.79 EUR), the offer is tempting indeed. Happy hunting and have a great time climbing up the rank list of Robot Rampage.