Tablets expected to outsell notebooks in 2013
8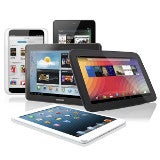 As if we needed more proof that tablets are the new big thing in mobile computing. NPD DisplaySearch has come up with a new survey forecasting that tablets will outsell notebooks globally for the first time in 2013.
With sales primarily driven by smaller, inexpensive 7" and 8" models, tablet sales are expected to reach about 240 million units, while laptops - about 207 million. That trend will continue through 2017, when there will probably a lot more tablets in this world than laptops.
As we said, tablet growth will mainly come from the smaller and more inexpensive models. However, the term "inexpensive" is not to be confused with "mediocre" here, as tablet prices have been falling rapidly during the last one or two years, thanks to intense competition from players like Google and Amazon, which are offering powerful hardware at really affordable prices. The role of the vast Chinese market is also to be taken seriously here, as NPD predicts that China will be responsible for the impressive 27% of all tablets sold in 2013.
So, let us ask you, guys: what's better for your lifestyle - a tablet or a notebook?
via:
Mashable