T-Mobile's new family plan: Unlimited talk, text, data (10GB of 4G LTE each) as low as $30 a line
29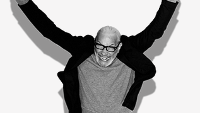 T-Mobile's latest Un-carrier Amped announcement is all about a new family plan that offers every one in the family unlimited talk, unlimited text and unlimited data (including 10GB of 4G LTE data). The pricing is quite simple. The first two family members are charged $100 a month. Additional family members pay $20 each.
But from now through Labor Day, sign up for the plan and the fourth line is free, with no expiration date. That means a family of four is getting unlimited talk, text and data (with the first 10GB being 4G LTE data) for $120 a month.
T-Mobile has been going on the offensive against Verizon recently,
offering Verizon customers a taste of the upstart carrier
. Today's announcement by T-Mobile was accompanied by a chart showing that to obtain the same unlimited talk, text and 10GB of data would cost Big Red customers $360 a month. Verizon's More Everything Plan allows four users to share 10GB of data. Including the overages required to match the amount of data offered by T-Mobile, Verizon customers would be paying $240 more each month.
"Why share Verizon's 10GB with everyone when you can have 10GB of America's fastest 4G LTE all to yourself?" said Legere. "The way the big carriers offer shared data is just a scheme concocted to trick customers into over-paying or to slam them with overage fees. We're bringing sanity to family plans and peace of mind to data-hungry families—because that's what the Un-carrier does."-John Legere, CEO, T-Mobile
The plan starts tomorrow and includes Music Freedom, Wi-Fi calling, Data Stash and the new Mobile without Borders, which gives T-Mobile customers in the U.S.
free roaming in Mexico and Canada
.
source: T-Mobile