T-Mobile's $200,000 Twitter campaign against Verizon backfires as the backlash grows
43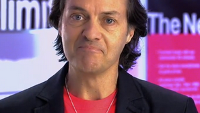 Are T-Mobile's days as the mobile tail wagging the industry dog coming to an end? Did CEO John Legere bite off more than he could chew? Did the caped crusader finally meet his match? You might recall that T-Mobile recently took Verizon's hashtag # NeverSettle and turned it on its head. The "disruptive" mobile operator used the hashtag #NeverSettleforVerizon
to promote its trial offer for customers of the nation's largest carrier
.
Under the trial plan, a Verizon customer ports his number to T-Mobile while keeping his Verizon phone in a drawer just in case. T-Mobile provides a phone for the trial. If the customer is enthralled with T-Mobile, he forfeits his Verizon handset, T-Mobile pays the balance owed on his Verizon equipment installment plan or an Early Termination fee up to $650 per line, and that's that. If the customer decides that he doesn't want to leave Big Red, he simply turns in the loaner handset from T-Mobile and everyone is square.
In promoting this offer, T-Mobile decided to spend $200,000 to push its #NeverSettleforVerizon hashtag to the top of Twitter's trend list. But this campaign backfired as many tweeted back their support for Verizon. This is the first fail that we have seen from T-Mobile in some time although we're pretty sure that T-Mobile's CEO isn't going to see it that way. In fact, we'd expect some sort of spin to be tweeted out from his Twitter account before too long, followed by a new Uncarrier initiative. And you know that it is going to be a big one to make up for this debacle.
Eventually, John Legere will probably write this off as a lesson learned. The lesson is that Verizon is currently untouchable. If Legere is as smart as we think he is, T-Mobile will continue to go after Sprint and AT&T customers until it is big enough to take on Verizon in a rematch. It might take some time, but this is one defeat that T-Mobile's CEO is going to want to avenge.
source:
#NeverSettleforVerizon
via
Mashable