T-Mobile says its 5G network will be right with or ahead of the competition launch
14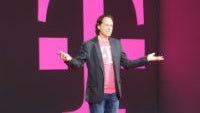 We can't say claim that the 5G wireless networks will be available any time soon, but they do sound pretty amazing, promising speeds of up to 100 times faster than LTE (which is already sufficiently fast as is). But, just because the networks won't be available soon doesn't mean that companies aren't already working on them.
AT&T has already been reported to start
testing its 5G network
as soon as this summer, and Verizon will likely be doing the same. T-Mobile doesn't want to be left behind, but it also wants customers to understand that 5G networks are not coming soon. T-Mobile network chief Neville Ray told Re/code that "They are trying to change the story. Nothing they are doing is proprietary or unique."
Ray went on to say that T-Mobile would be "be right there with them or ahead." And, in that effort, T-Mobile will start testing on its own 5G network at some point this year. However, T-Mobile was careful to note that their network (and those from competitors) likely won't see the first consumer devices capable of running on the 5G wireless until around 2020.
That's only 4 years away, which isn't so bad in general terms, but it is multiple lifetimes in terms of mobile devices.