T-Mobile plans UNcarrier 5.0 event for June 18th
12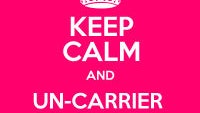 T-Mobile has been making huge strides recently, and it all is due to its UNcarrier changes which have disrupted the wireless industry as a whole in the US. Now, T-Mobile is getting ready to unveil the next step in the UNcarrier movement. It will hold the UNcarrier 5.0 event on Wednesday June 18th in Los Angeles. Unfortunately, we don't really know what to expect.
The only potential hint is the tag line on T-Mobile's announcement which says "We don't play it safe and sound." This could easily be a simple statement to bolster how radical some of the UNcarrier changes have been, but it could also point to what to expect from the event. If that is the case, the best guess we would have is that maybe it has something to do with insurance and damage protection, but that is pure speculation.
T-Mobile has already used its UNcarrier program to kill contracts, introduce the JUMP! frequent upgrade plan, free international data, free LTE data on tablets, and more. The changes have helped T-Mobile to grow rapidly, add subscribers, and even pass Sprint in terms of smartphone sales. What do you expect next?