T-Mobile looking to pair up with a carrier rather than sell itself off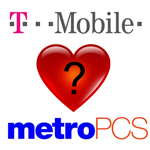 It appears that the AT&T
acquisition shenanigans
of last year have left a bad taste in the mouth of Deutsche Telekom, T-Mobile's parent company. As a result they are no longer looking to sell the company outright, according to Rene Obermann, the CEO of Deutsche Telekom.
Speaking at an annual meaning in Germany, Obermann went on to elaborate, saying "
We do not exclude any option for the T-Mobile unit in the U.S., also not a merger,
(but)
a complete sale is unlikely. You understand that I can't say more in public on T- Mobile USA.
"
In the past Dish has expressed an interest in pairing up with T-Mobile to build out an LTE network, while other analysts have speculated that T-Mobile's network could be paired up with either MetroPCS or even Sprint. In the meantime, T-Mobile has responded to its current uncertainty by undergoing an internal restructuring, including the elimination of 2,800 jobs.
According to "people familiar with the matter" speaking to Bloomberg, the most likely outcome will be a stock-swap between Deutsche Telekom and MetroPCS that would still leave Deutsche Telekom with a controlling share in T-Mobile as a publicly traded entity. This would allow MetroPCS to build out its LTE offerings more rapidly, and could meet Deutsche Telekom's goals of increasing their return on their investment in T-Mobile.
What do you T-Mobile and MetroPCS customers think of sharing a network? Sound off in the comments below.
source:
Bloomberg
via
The Verge