Survey suggests 20% of Android users want to buy the new iPhone
99+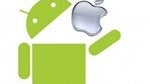 A survey of 1,300 people determined that in addition to upgrading to the new iPhone, users want better battery life, faster performance and 4G/LTE connectivity. The survey, performed by Techbargains.com, also determined that about three out of four existing iPhone owners expect to upgrade to the new iPhone.
About one out of five Android users plan to make the switch to the new iPhone and iOS 6, while a larger one in three segment of BlackBerry and non-smartphone users plan to take a bite. However, in those categories there were just as many people that were still undecided. Anticipated enthusiasm for the new device is about the same as when the new iPad was released earlier this year.
More than half of those surveyed do not have a firm time frame to pick up their new device. The true believers, apparently about 10%, will wait in line on the day of the release. Meanwhile, a solid one in five out of those that would not be buying the new iPhone stated their reason as that they hated Apple. About half believe the subsidized price point will remain the same, starting at $199.
The topic alone always brings about a lively discussion, but if you plan to upgrade or switch, from what and why?
source:
TechBargains
via
Electronista