Survey reveals why smartphone users switch platforms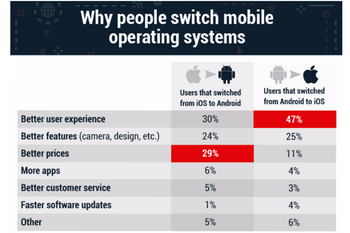 In the musical
West Side Story
, the street gang called the Jets sing, "When your a Jet you're a Jet all the way, from your first cigarette to your last dying day." And while that type of loyalty still is par for the course among a majority of U.S. smartphone users, a recent survey of 2,500 consumers in the states by
PCMag
reveals that pricing and user experience are major reasons why those smartphone users who move from one platform to another do so.
18% of survey respondents switched from Android to iOS and 11% left iOS for Android. That means that 71% have stayed loyal to one OS, which could mean that smartphone users are creatures of habit, or worried about having to learn the intricacies of a new platform.
47% of those who flipped from Android to iOS said that the grass was greener on the other side; in other words, they left for a better user experience. 30% of those who left iOS for Android said that Google's open source operating system gave them a better user experience. On the other hand, when it came to pricing, 29% switched to Android from iOS while only 11% went the other way. Really, no surprise there.
When it comes to features, it was roughly a draw. 24% of those who moved from iOS to Android, and 25% of those who went the other way, switched because of the camera, and/or the design of the handset they ended up with. Oddly, 1% of those who switched to Android left iOS for faster software updates! 6% of those who left iOS for Apple did so to have more apps to chose from, while 4% of those went from Android to iOS said that they did so for the same reason.
In case you were curious, 54% of survey participants own an iPhone and half as many (27%) are sporting a Samsung branded Android handset.

You can check out the results of the survey by viewing the image at the top of this article.