Surgeon discovers his own cancer after using an ultrasound connected to an iPhone
28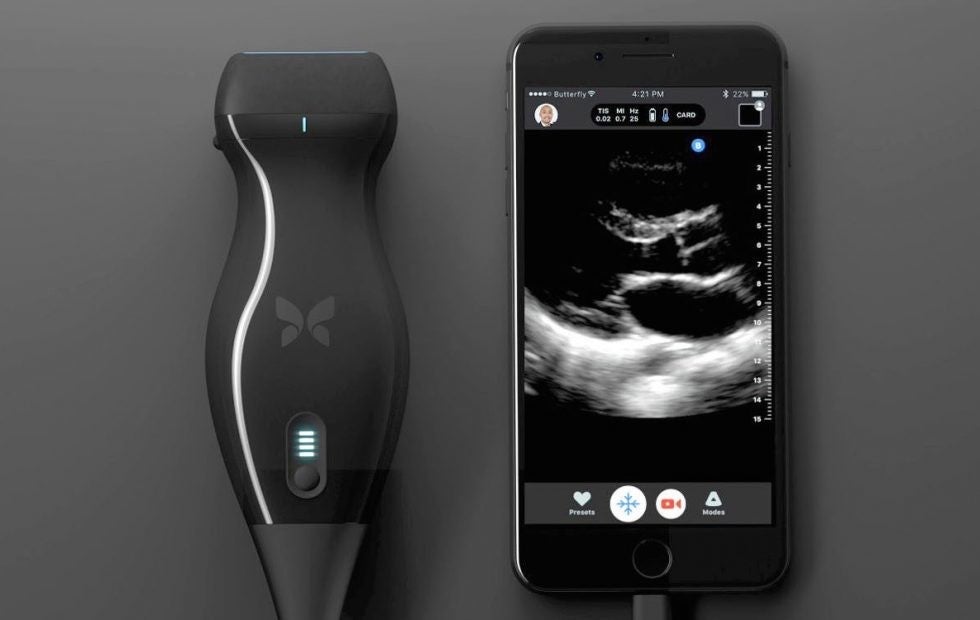 The Butterfly IQ sends ultrasound images to an Apple iPhone
Apple is focusing on using its mobile devices to improve health care. Being able to use one of the company's mobile devices to make an accurate, but quick diagnosis is one of the most important possibilities to come from this. And a real life example of this has taken place with a portable ultrasound device that works with the iPhone. Called the
Butterfly IQ
, the medical accessory was used by a vascular surgeon to find a cancerous mass in his throat.
Doctor John Martin had been having an uncomfortable feeling in his throat when he decided to use the Butterfly IQ to see what was going on. Obtaining the unit, which looks like an electric razor, was not an issue since Dr. Martin happens to be the Chief Medical Officer of the Butterfly Network, the company that makes the device. After applying the typical ultrasound "gel" to his neck (those who have had an ultrasound will know what we are referring to), he used the Butterfly IQ device to send the ultrasound image to a paired iPhone. The image revealed a 3cm mass indicating that the Doctor had squamous-cell cancer.
The Butterfly IQ will go on sale in the U.S. later this year, priced at $1,999. That is a fraction of what a hospital spends on the larger sized ultrasounds that you might be more familiar with. Eventually, the Butterfly IQ is a device that could be used in an ambulance, or at home. To that end, the company is hoping to pair the product with AI software that will allow a novice to position the probe correctly and even interpret the images. In 2018, software could be added that allows users to calculate how well the heart is pumping blood, and even find an aortic aneurism in a scan. John Kendall, ultrasound director at the emergency department of Denver Health Medical Center, and a Butterfly Network advisor, says that eventually the product will be purchased by homeowners. "The ability to acquire an image and know what you are seeing—I think it's coming," he says.
As for Dr. Martin, he survived a five and a half hour surgery, and is currently undergoing radiation treatment.
source:
MITTechnologyReview
via
SlashGear