Supplement your next boozy evening with Intoxicase for iPhone
7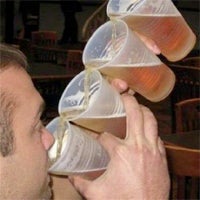 There is nothing more frustrating then getting ready to crack open a cold beer only to realize someone misplaced the bottle opener. The next few minutes are usually filled with frantic searching, fashioning a makeshift opener out of a lighter, or "that guy" attempting to impress everyone by opening a bottle with his teeth.
In the latest edition of "Why didn't I think of that?" comes the Intoxicase. The Intoxicase is a rugged protective case that fits the iPhone 4 and 4S and has a bottle opener built right on to the back. It comes in two flavors, Intoxicase and Intoxicase Plus. The original retails for $35 and is available now. The second hasn't been released just yet, but will retail for $45. It can be preordered for $35 from the Intoxicase website.
Check out the video below to see a little bit about how the Intoxicase came about and how it was tested by bartenders in local bars.
source:
Intoxicase
via
Gizmodo