Super Mario Run is no longer the highest grossing app anywhere
11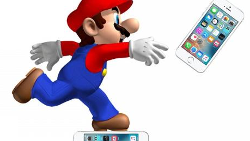 Does
Super Mario Run
have legs? The game, which launched in the iOS App Store on December 15th,
quickly became the highest grossing iOS app in the U.S.
just hours after launching. That was repeated in several countries around the world. But now it appears that excitement over the title is fading. On December 24th and 25, the game was no longer the top grossing app in any country.
Part of the reason why the popularity of the game is dropping appears to be related to the pricing of it. Super Mario Run is free to download, and while some of the game play costs nothing, you will have to pay $9.99 to access all of the levels in the game. The fact that the game is free allows it to remain on top of the free apps chart in 68 countries; but that is still down from the peak of 138 countries where it was the top free downloaded app nearly two weeks ago.
There is no question that pricing of the app is playing an important role in its performance. Some believe that Super Mario Run would do better if the price were lowered. According to Apptopia, only 1% to 2% of those who download the game are willing to pay up for all of the its levels. Apptopia's analysis shows that if the price were to drop to $2 from the current $9.99, the conversion rate would rise to 10%.
To show you what the difference would mean to Nintendo in terms of revenue, keeping the price of Super Mario Run at $9.99 would lead to $30 million in revenue this month for the game. Dropping the price to $2 would actually raise the total revenue this month to $50 million. Still, we don't believe that Nintendo is going to be persuaded by this argument to drop the price.
We should point out that Super Mario Run remains an exclusive iOS app for the moment.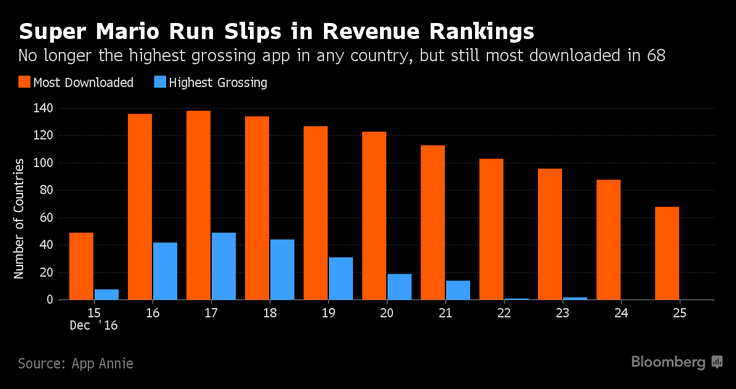 No longer among the highest grossing apps. Super Mario Run is still among the most downloaded games
source:
Bloomberg