Sub-$300 12-inch Windows tablet coming and will eventually dual-boot Android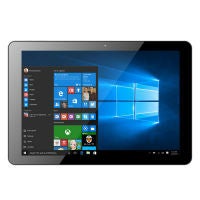 Normally, we don't deal too much with devices that don't have a solid brand name behind it because there is a wide range of not-so-great devices out there that you all don't really need to know about. That said, we're learning about a tablet from a company that you might not know, but the specs, price, and features are a bit too good to let this news pass by.
It's the Chuwi Hi12 tablet. Chuwi isn't a well-known Chinese company, but it is planning to bring a 12-inch Windows tablet to U.S. shores for just $299 (one site has preorders up right now for $249). For that price, you would probably expect to be getting a device that can't be used for much, but Chuwi is trying to show that it's not just phones that can be good at lower prices. The Hi12 tablet will be packing a 12-inch 2160 x 1440 resolution display, a 1.44GHz quad-core Intel Atom Z8300 CPU with Intel's Gen8 iGPU, 4GB of RAM, 64GB internal storage, a 5-megapixel rear camera, a 2-megapixel front camera, HDMI out, a USB 3.0 port, a USB 2.0 port, and an 11000mAh battery.
That's a good amount of power for the price. Add in that it will run Windows 10 and have an optional magnetic keyboard dock, and you could have a pretty interesting portable option. And, Chuwi has even said that it plans to add dual-booting to Android later on. A sub-$300 tablet that dual-boots Windows 10 and Android? Not a bad option at all, regardless of the brand name.