Study shows consumers waste large amounts of electricity by over-charging mobile devices
19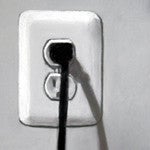 Do you leave your phone or laptop plugged in even after it's charged completely? According to a study of British users, at least 1/5 people routinely leave their mobile devices plugged in once the meter hits 100%. Some do it out of a fear of running out of juice later, while others admit to simply being "too lazy" to bother with unplugging their devices.
The consequences of those actions are actually rather serious, both at an individual level and a cumulative level. Routine overcharging of batteries is estimated to cost households close to $100 a year, and significantly shortens the life of the battery, which in turn leads to either purchasing a new battery, or often an entirely new device.
Cumulatively, in the U.K. alone £134 million (U.S. $210 million dollars) is wasted this way. At a time when many households worry about tightening their budget, unplugging your phone when it's charged is an easy way to save some money. It also places a greater stress on natural resources, as that energy isn't even put to good use, instead being converted to heat and lost.
So if you're looking to do your pocketbook – or mother nature – a favor, be sure to unplug your phones and laptops when they're charged up.
source:
Mail Online
via
Textually