Study says that apps are not important to smartphone owners
17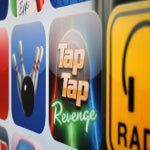 There are those who will tell you that the Palm Pre failed because it was launched
without a fully stocked online app store
. Some will tell you that they will not buy a Windows Phone model because of the smaller Windows Marketplace. BlackBerry App World has been compared by some to a KMart toy department after Xmas with nothing but empty shelves. But are apps that important to smartphone users? A new study by the Pew Research Center's Internet & American Life Project suggests that apps
are not so important
after all.
According to the study, 68% of smartphone users open 5 or fewer apps at least once a week. Amazingly, 42% of those responding to the survey have
not installed one app
on their phone. Pew researcher Kristen Purcell says that the reason why excitement about apps fades is that, "
The novelty wears off
." But those apps that do stay on a phone are used quite often. According to Nielsen's Monica Bannan, Android users on average spend 90 minutes a day on their phone with 67% of that time used for running apps. Bannan says that this also applies to Apple iPhone owners. A good example of this behavior comes from Atlanta newsletter writer Ghada Elnajjar. Back in June she purchased an Apple iPhone 4 and quickly installed 26 apps. After a while, she says that the apps are no longer fun and now there are only 2 she uses regularly, Facebook and MyFitnessPal.
Apps come and go. Anindya Datta, founder of
Mobilewalla
, an app analytic firm, says that "
We are constantly deleting them. That's why the number of downloads is a very poor measure of how popular an app is
." Datta notes that 80% to 90% of apps are eventually deleted. That is why an app that is kept by 30% of those who download it is considered to be a "
sticky
" app. Human nature might be behind the desire to change apps. Each month, 10 of the Top 50 apps is new. According to Datta, of the 1 million apps available for users of the top 4 mobile platforms,
only 10% of them have been discovered
.
source:
USAToday