Steve Wozniak remembers his fallen comrade
25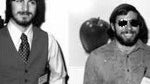 For those who don't know the whole story.
more than one "Steve" founded Apple
. In 1976, boyhood pals Steve Jobs and Steve Wozniak started Apple Computer from a garage, selling do-it-yourself kits to build home computers. Back in 1977, the company delivered the Apple II and started on the path it took, to make devices that people would find innovative, intuitive and impossible to live without . Wozniak left Apple in 1985 for other pastures (including a short voice over stint on the animated "Code Monkeys").
Steve Wozniak was long gone from Apple when Steve Jobs made his triumphant return and the company released a string of hits that hasn't been topped yet (and might never be): The
Apple iMac
,
Apple iPod
,
Apple iPhone
,
Apple iPad
all became big hits from the moment each was launched. The devices changed the landscape of the business that they were aimed at. In a brief interview with the Associated Press, "The Woz" recalls how in the early days, he handled the engineering side of things while Jobs was the business guy.
We're sure that both Steves could not imagine the impact that their little company would end up having on the world. And
with the untimely passing of Steve Jobs
at 56, in some ways it is up to Steve Wozniak to continue to remind everyone that it is possible in America for two young kids to start a business in a garage and with some innovative ideas and new products, turn it into a multi-billion dollar powerhouse whose devices
have changed the world
for the better.
source:
AP