Sprint's Samsung Galaxy Note 4 gets factory reset protection through software update
5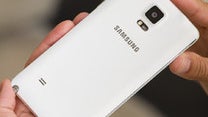 Sprint has just started pushing a software update to its version of the
Samsung Galaxy Note 4
, although it's not the Android 5.1 Lollipop OTA that most Note 4 owners have been waiting for. Instead, Sprint's new software update gives the Galaxy Note 4 an extra layer of protection before the owner (or somebody else) can perform a factory reset.
Factory reset protection is baked in the stock version of Android 5.0 Lollipop, but Samsung decided not to use the feature in its implementation of 5.0 Lollipop. Sprint's new update for the Galaxy Note 4 addresses this issue.
Once the Samsung Galaxy Note 4 gets factory reset protection, the user will not be able to perform a factory reset until a passkey is entered. Basically, this means that thieves
should
be unable wipe a stolen handset before selling it to another person. It's certainly not a game-changing software update, but any extra software protection layer is more than welcomed, especially if it discourages smartphone theft.
The new update will bring the Sprint version of the Galaxy Note 4 to software version N910PVPU2BOE1. Aside from the factory reset protection feature, the update is said to bring a range of bug fixes. The OTA has started rolling today, but it might take a few days before the update reaches your device.