Sprint's Dan Hesse speaks out against AT&T's purchase of T-Mobile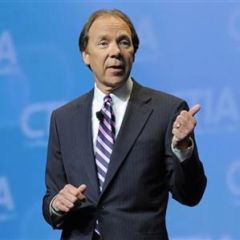 The potential acquisition of
T-Mobile by AT&T
would mean that 80% of the nation's mobile subscribers would be with either AT&T or Verizon. So it's understandable that Sprint is concerned. Sprint will also have to contend with public perception that the wireless market has become a duopoly, rather than the current Big 4.
Sprint CEO Dan Hesse voiced his concerns today in San Francisco, saying that
"
If AT&T is allowed to swallow T-Mobile, competition will be stifled, growth will be stifled and wireless innovation will be jeopardized."
This statement echoes what Sprint expressed in an earlier
press release
. Sprint's senior VP of governmental affairs said that "Sprint urges the United States government to block this anti-competitive acquisition. This transaction will harm consumers and harm competition at a time when this country can least afford it."
We don't know if AT&T will use their increased size to lower prices, or raise them. But our chief concern is that a duopoly will result in slower network and device innovation.
source:
Reuters