Spotlight: DiskInfo spills the beans on your Android device storage without being too Material in design
4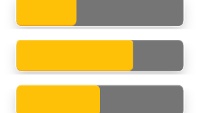 DiskInfo is an app that does one thing and does it really good. It lists all partitions and mount points on your android device, showing disk usage, partition and storage information, total and free memory, RAM, and swap. Each partition gives out information such as total size, used, and free space; partition name, alias, type, and number; device name and type; block size; file system type and more.
DiskInfo has free and Pro versions available. DiskInfo PRO ($2) is able to track minute details, such as logical volume group and attributes, vendor and model for USB devices, and give out complete information for SD cards (manufactured date, CSD, CID, OEM ID, manf. ID, revisions and serial numbers).
The application does not require root access, but a READ_EXTERNAL_STORAGE permission is needed for some devices running KitKat and higher.
What we really like about DiskInfo is that it presents those humongous amounts of information inside a cool-looking and very readable interface. Rather than another plain ol' Material app, this one wears its geek cred with pride and shows it with hyped colors and big fonts and diagrams. You won't find any wasted white space in this app, that's for sure!
| | |
| --- | --- |
| Developer: Kuder | Download: Android |
| Category: System info | Price: Free (with in-app purchases) |