Spotify announces 75 million paid subscribers but is still losing money
26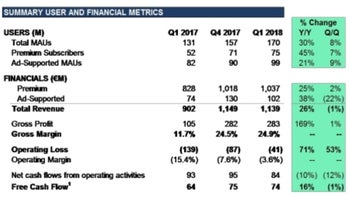 It has been roughly a month since Spotify joined the market, and the company released its first quarter numbers today. We recently learned
Spotify
has 170 million subscribers. What we learned today was that only 75 million of those are paying for the service. The company had 71 million in Q4 of 2017 (7 percent increase), but it was a 45 percent increase on the year to year scale. The company's operating loss is down compared to last year by roughly half, but it still has a long road ahead to get where it needs to be. The company is forecasting a better second quarter and are hoping to hit somewhere near 83 million premium users. Spotify has increased the length of its trial services and is still confident in its student and family plans ability to retain customers. These appealing deals come along with its partnership with Hulu as methods to recruit and retain key demographics.
Spotify still faces a challenge
Spotify is working hard to keep a healthy growth rate and not lose existing customers. Recently announced changes to the company's
free service
show how important it is that Spotify keeps a hold on that section of the market, which is where it will need to find its growth. Spotify has a head start but stiff competition from the likes of Apple and Google. Google will (relatively) soon roll
Play Music
into YouTube and Apple is coming up behind Spotify with
40 million paid
subscribers. Apple's current growth is near or even slightly ahead of Spotify but at the current rate is not enough to catch up. Spotify will have to do at least mildly better over the next year to keep its lead and keep investors happy.
image credit: Business Wire