Sphero ball demo: 'Part robot. Part ball. All fun.'
5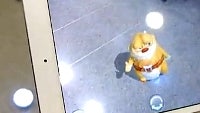 We had one of the funniest encounters at this year's MWC expo with a little gadget called
Sphero
ball, a "
robotic ball system for iOS and Android
." As you can see it is a little sphere that can be controlled with your phone or tablet.
The Sphero ball rep was nice enough to show us the contraption in motion, but the fun doesn't stop here. There are actually a number of apps that can take advantage of the robotized sphere, even augmented reality ones like Sharky the Beaver.
You move the character around on your tablet's screen there, and the ball on the floor repeats the movement, which we re sure kids young and old we'll have oodles of fun with. You can even throw virtual cupcakes in the beaver's mouth for added entertainment with the "Part robot. Part ball. All fun." thingy. Enjoy the Sphere ball demo in the video below.