Sony S1 and S2 Honeycomb tablets to be launched within a month, 3G and SD cards in tow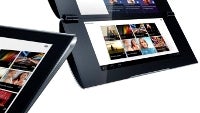 The
Sony S1
Honeycomb tablet is to have a 9.4" IPS LCD display with the
TruBlack and BRAVIA technologies
, with battery life comparable to the iPad 2. It will have 16GB and 32GB versions, and a version with only Wi-Fi radio.
The dual-screen
Sony S2
, however, will only be outed in 16GB and 32GB versions with
3G connectivity
, which probably means it is being primed for carrier subsidies, confirmed by the fact that
AT&T will be carrying the innovative Honeycomb tablet
with HSPA+ radio on board.
The great part is that both slates are said to sport
standard SD card slots
, which means you can add plenty of additional storage on the cheap. Looks like Sony is doing everything right with its first foray into the world of Android slates, so we can't wait to get our hands on these babies for a full review. The only burning question is price - while there is a lot of talk about the "Sony premium" or "Sony tax", we somehow doubt the company will shoot itself in the foot with prices well above those of the best Apple or Android tablets, but corporate might prove us wrong anyway.
Enjoy a live video of the tablets in action below. Oh, and the source who leaked the above info, said that the Sony S1 and S2 will most likely be announced before the largest European electronics expo IFA 2011, which starts in Berlin 2-7 of September,
just as promised
. The official names will also be unveiled at the time, which are allegedly going to resemble the codenames, whatever that means.
source:
CNET