Sony Ericsson's MH-100 compact stereo Bluetooth dongle to cost $120?
This article contains unofficial information.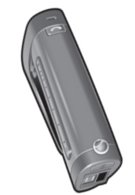 Music lovers can sometimes be picky when it comes to which medium they prefer listening to their tunes on. Fortunately for Sony Ericsson, they've been able to build their reputation around music playback on their phones. It doesn't happen all the time, but sometimes music lovers would rather stick with their traditional wired headphones as opposed to stereo Bluetooth headphones. If you're in that boat, then you may want to consider looking into getting the Sony Ericsson MH-100 stereo Bluetooth dongle. One thing for sure is that it won't bog you down because of its compact design – it even has a touch sensitive volume bar, music controls, call button, and multi-colored LEDs to indicate volume settings. Everything seems fine and great for those looking to retain their old headphones for their music pleasure, but the $100 to $120 speculated price may turn off some out there. Even at that range, there are some really good stereo Bluetooth headphones that may appeal some people. Which ever way you decide to go, at least the MH-100 will be there if you decide to go with it.
via
IntoMobile