Sony Ericsson announces 5 more phones
1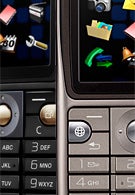 Sony Ericsson W960
comes as the replacement of the W950 – it doubles the hard disc capacity from 4 to 8GB, still uses Symbian UIQ but the keyboard is now standard one, instead of flat. The Walkman is now a cameraphone, with 3.2-megapixel camera with autofocus and additional one for video calling.
is the other slider, and we already saw some photos of it. Slim slider (0.5" / 12.5mm) it is quad-band GSM with HSDPA 2100MHz, QVGA display and 2-megapixel camera. It features video calling, FM radio, Stereo Bluetooth, and Walkman player.
W910 will feature
Shake control
, which allows you to operate the phone by moving it in the air. "With Shake control selected on the new W910 phone, you can skip your music forward one track if it's flicked one way and back if it's flicked another. Shake it back and forth and it shuffles your playlist. It also adds a new dimension to mobile gaming." Shake control will also be available on the W580 phone, announced earlier in the year.
is just a standard candybar, tri-band GSM with UMTS 2100. Still it features 2-megapixel camera with video recorder, QVGA display, stereo Bluetooth and Radio.
is very simple clamshell phone, quad-band GSM with 12MB of memory and 128x160 pixels internal display. It has 1.3MP camera for photos but we are disappointed of its thickness – 0.8"/20mm.
Z250
has more-fashionable design, but only VGA (0.3MP) camera. Its has the same internal display, thickness, and almost the same dimensions.