Something's up: 16 core Android apps have been updated near simultaneously
28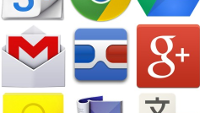 A Reddit user first sounded the alarm less than 12 hours ago, reporting a somewhat suspicious activity: in total, 16 Google apps have received updates until now. This is highly unusual, and considering the massive hoop-la around the Nexus 5 these last 48 hours, we are definitely getting that gut feeling that Android 4.4 KitKat is right behind the corner.
Of course, it's worth pointing out that within that number of 16 apps, at least Google+ and Hangouts have a plausible explanation. The rest, however, are a good indicator that something is happening. What makes this even more curious, is the fact that these updates have not been pushed to any one device so far – you can see their updated date tags on the Play Store, but you ain't getting an automatic update as per usual.
Unfortunately, speculation hasn't really gotten us anywhere thus far, so this time around we'll let you form your own opinions. In case you're curious, you can see the full list of apps that have been updated right below.
Google Play Services
Gmail
Drive
Calendar
Earth
Translate
Chrome
Hangouts
Goggles
Play Magazines
Keep
Wallet
Blogger
Google+
Analytics
Fiber